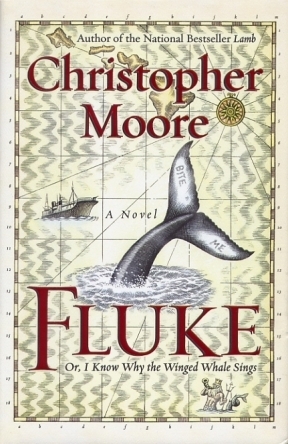 Now I know, too.
Between work, boat work and work, I don't read fiction the way I used to. Boating magazines, technical papers on "floating grounds" and other mysteries of boat electrics, sure. Even three-week old copies of The Economist. But fiction? Not so much.
So it was only in the spirit of random restlessness that I thought "I can't read one more thing about long splices or pole guys or ditty bags tonight. I need to read something funny."
So naturally, I go for a nautically themed novel, even if it was a gift I gave to my wife 10 years ago.
Fluke
, by
Christopher Moore
, is about the slightly obssessive "action nerds" involved in cetacean research, or, in plainer terms, whale scientists. Nate, the vaguely middle-aged protangonist, works on a shoestring budget in Hawaii trying to figure out the meaning of the elaborate song of the humpback whale. Complicating things are a saucy grad student with mysterious secrets, a photographer with a very loyal streak, and a faux-Rasta surfer dude with the world's most intricate bong.
Funny and wry, the novel would be not much more than a diverting character study, but it gets weird in a way Vonnegut would have (and may have) enjoyed and to say more would spoil it. Let's just say that our whale boffin finds his answers, and it may be some time before he's comfortable with them. Me, I got comfortable right away. If you like some science in your fiction, Fluke is a salty romp.